This picture is our 'dream rider' from my book, and shows what happens when you get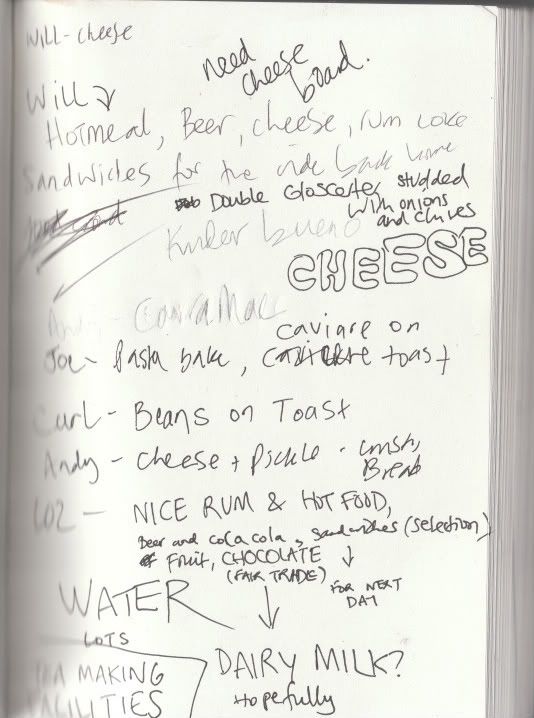 bored and hungry

.
Yes Kinder Bueno is in there and as you can see, lot's of cheese.
What a great weekend! After leaving Worthing at 9-ish, we arrived in Herefordshire at about 1-ish and went to the nearset shop to gather booze. Once we found Nozstock, we got our equipment in and found our way to our DRESSING ROOM. Yes, a dressing room!!! Not only did this dressing room have Booze and water in, it had sweets (YES!) and... Pieces of canvas around the room with, what looked like, a few people had covered their boobs and bits with paint and pressed them on these canvas'. We then noticed on the dressing room door, that it said 'Please cum again'. Did cause quite a few jokes, many laughs and those sweets did not help in the matter.
So after getting hyper... it was then time to play, which went soooooo well. BIG Thanks to the people who got up and danced, I know it was well hot so that meant alot to us! And horray to the bubble lady. Seeing bubbles float pass, makes one very happy.
We managed to shift quite a few CDs which was great! But now, it also means I gotta make more (we do it DIY up in here) so CD factory Day 2, will be coming up soon.
After playing we checked some people out and saw
Dub Mafia
(who are also apart of the Chai Wallah Festival Tour with us!!) and
Akala
who were both so good and didn't want it to end!!!
So after that, we went off back to the tent for a bit to chill out. Then I left camp with Eva and we went on a little mission around and found some cool areas, like some crazy florescent forest (NO I was not on any acid) and walked around in the hope of finding cheap or free food. ( I managed eventually to find a sausage and onion bap, locally sourced which was a a a mazing and did the job!) and by this time it was about 2-ish. Once I got back to the tent the guys were on their way to dream land so I joined them as I had to drive back in the morning, and it was my birthday gathering!
Thanks to those who sorted this out, looked after us and provided. You know who you are!